Tell us your Appenzeller®
experience for a chance to win Riedel wineglasses!
Let us know where you have tasted
Appenzeller®
, what your favourite recipe is, or what kind of Appenzeller® meal you are dreaming of. You have a chance to win Riedel wineglasses worth up to €500.
You can enter by using the form, and also add your story to Instagram with hashtag #secretofappenzeller and your post will be published on this page. We will also share the best stories on our own account @weloveswisscheese_nordics
Only two people in the world know the secret of Appenzeller.
The main ingredient of Appenzeller® cheese is freshly milked, 100 % natural cow's milk. Appenzeller® does not contain any preservatives, flavour enhancers, colourings, lactose, gluten, or genetically modified ingredients. Instead, the secret behind the cheese's natural and delicious flavour is the world-famous, Swiss art of cheesemaking.
Local milk producers, 50 authorised cheese factories, 700 years of traditional craft, and strict quality assurance guarantee that Appenzeller® is manufactured and matured according to highest quality standards.
Secrets
Check our videos to hear the stories of producers, cheese masters, and cultivators of the herbs required in the manufacture of Appenzeller.
Traditions of our forefathers
Stephan Mägli, Managing Director, Appenzeller Alpenbitter
Recipes
Taste it and discover the
secret of Appenzeller® yourself.
Appenzeller® is good as it is but putting its aromatic and unique flavour to good use in cooking will spice up your cuisine and bring new flavours to your dishes. Check out the recipes by food influencer and photographer Petter Bäcklundin and food reporter Tiina Rantanen.
Macaroni & cheese with Appenzeller®
Cupcakes with cheese – easy treat for brunches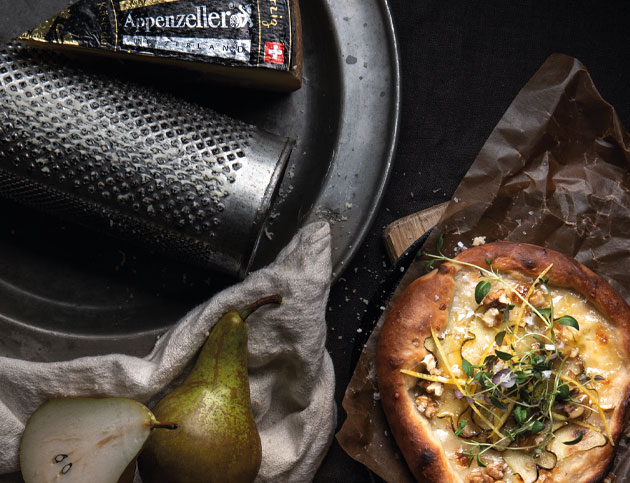 Herb pesto with Appenzeller® cheese
Tell a friend or follow us on social media.
Tell us your Appenzeller®
experience for a chance to win Riedel wineglasses!
Competition rules
1. Organiser:
Switzerland Cheese Marketing Nordics
Malminkaari 13 A, 00700 Helsinki, Finland
business ID 2501559-1
2. Eligibility:
Natural persons of at least 18 years of age and residing in Finland, Sweden, Norway, and Denmark are eligible to enter the competition. However, the organiser's employees and persons involved in campaign creation, including the family members thereof, are ineligible.
3. Competition period:
The competition period runs from November 1st, 2021 until June 30th, 2022. Organiser is not liable for any information technology -related issues that may stop people from entering the competition.
4. How to enter:
You can participate on the Internet at www.secretofappenzeller.fi and www.secretofappenzeller.se by entering your contact information in the competition entry form (name and email address). This competition is not sponsored, recommended, or managed by Facebook. Participants provide their contact information for the purposes of Organiser's competitions, not to Facebook.
5. Prizes:
Riedel wineglasses worth up to €500 will be raffled among all participants. This prize cannot be changed, transferred to another person, or converted into cash.
6. Notifying the winner and receiving the prize:
The organiser of the competition will contact the winner at the specified email address. In case the winner cannot be reached or the mailed prize is returned to Organiser due to erroneous contact information or some other obstacle preventing delivery, or the winner is found to be in breach of these rules or the law, or the winner cannot be reached within two weeks of the raffle date, a new winner will be drawn. Competition Organiser has the right to remove any participants who intend to misuse the competition to alter the results or raffle probabilities.
7. Organiser's liability:
The winner of the prize shall release Organiser of all liability and costs that may be incurred from entering the competition, receiving the prize, or using the prize. This discharge from liability does not, however, reduce any rights that belong to consumer based on the Consumer Protection Act. Organiser's liability towards participants is limited to the competition prize's amount and value. Winner shall be responsible for any possible costs incurred by accepting or carrying out the prize. The prize cannot be exchanged for cash or another product. By entering this competition, participant agrees to comply with these rules and any decisions made by Organiser. Organiser reserves the right to make changes to the rules by notifying of these changes on the competition Web site.
8. Processing and using personal data in direct marketing:
Per each participant, the provided email address is solely used to reach the winner in case participant does not consent to receiving direct marketing. Organiser has the right to publish the winner's first name, last name, and place of residence on the Organiser's Facebook and online pages.
9. Immaterial rights:
Organiser may edit and use the contents of the competition entries in their marketing.